Our Community
Adelaide Hills Toyota
Here at Adelaide Hills Toyota we strive to support our local community.
We get involved where ever possible to support our local community events, clubs, good causes and more.
We have had the pleasure to be involved in a vast variety of local sponsorship over the year of 2016.
Sponsorship List 2016
Hahndorf Bowling Club
Mt Barker Football Club
Langhorne Creek Football Club
Strathalbyn Football Club
Nairne-Bremmer Football Club
Get Proud Graffiti Program – weekly use of motor vehicle
Crafers Primary School – Pedal Prix and Fete
Mt Barker Pageant
Stirling Pageant
Strathalbyn Show
Mt Barker Show
Mt Barker Bowling Club
Jodi Lee Foundation
Captain Courageous Foundation
Nairne Primary School
Milang Bowling Club
Power of the Past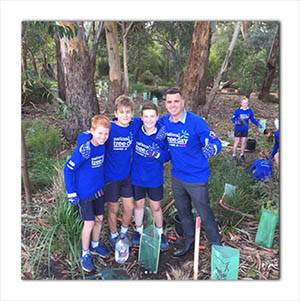 Toyota's National Tree Day
Another successful tree planting at Cornerstone College Friday 11th August for Toyota's National Tree Day! Thanks to the enthusiastic Year 7 students for getting their hands dirty to help the environment.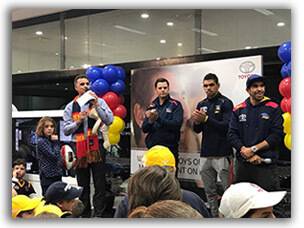 The Adelaide Crows here at Adelaide Hills Toyota!
What a night! We had the pleasure to meet Eddie, Charlie & Anne from the Adelaide Football Club plus all the Adelaide Crows members who came to visit us at our showroom for a special event. The night consisted of meeting the team, grabbing their signatures and a delicious sausage sizzle, a big thank you to The Official Crows Supporters Group who cooked up a storm! Thank you for all coming :)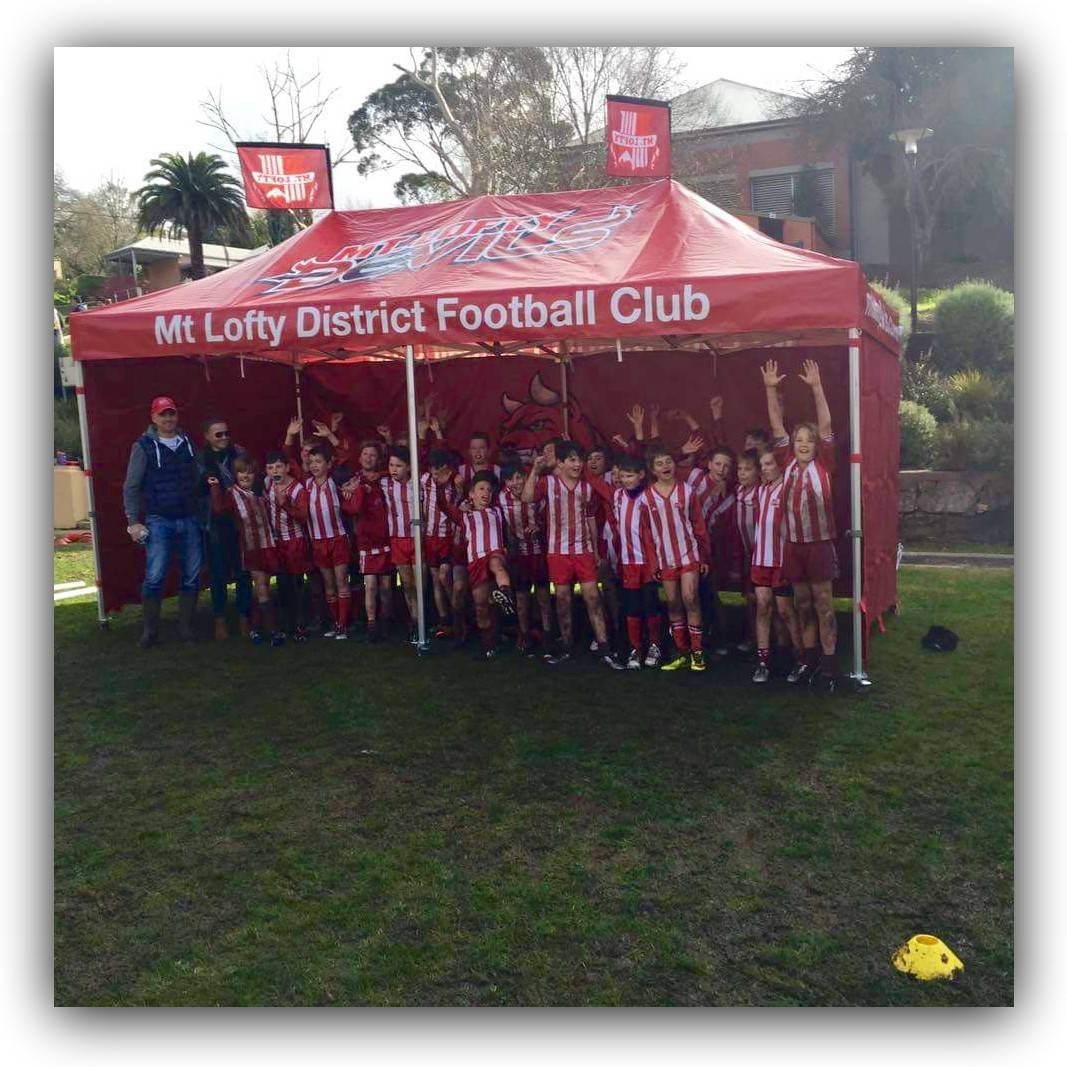 Good for Footy
The Good for Footy Raffle is a yearly event that Toyota conducts which raises money for grass roots football clubs around Australia. In 2015, the Mt Lofty Football Club together with Adelaide Hills Toyota raised over $2,000 and used the money to help purchase the fabulous marquee pictured.
This year we raised over $3,500 for the club. A big thank you to all the little Mt Lofty Devils who sold the raffle tickets and Toyota Australia for such a wonderful initiative!
Golf Day Beyond Blue
On Friday the 21st of October LJ Hooker held their annual Beyond Blue Golf Day at the Stirling Golf Club which raises awareness and money for the amazing organisation Beyond Blue.
For the second year in a row Adelaide Hills Toyota donated a brand new Toyota SR5 Hilux for a Hole in One on the 6th hole. Unfortunately no one managed to achieve this - maybe next year!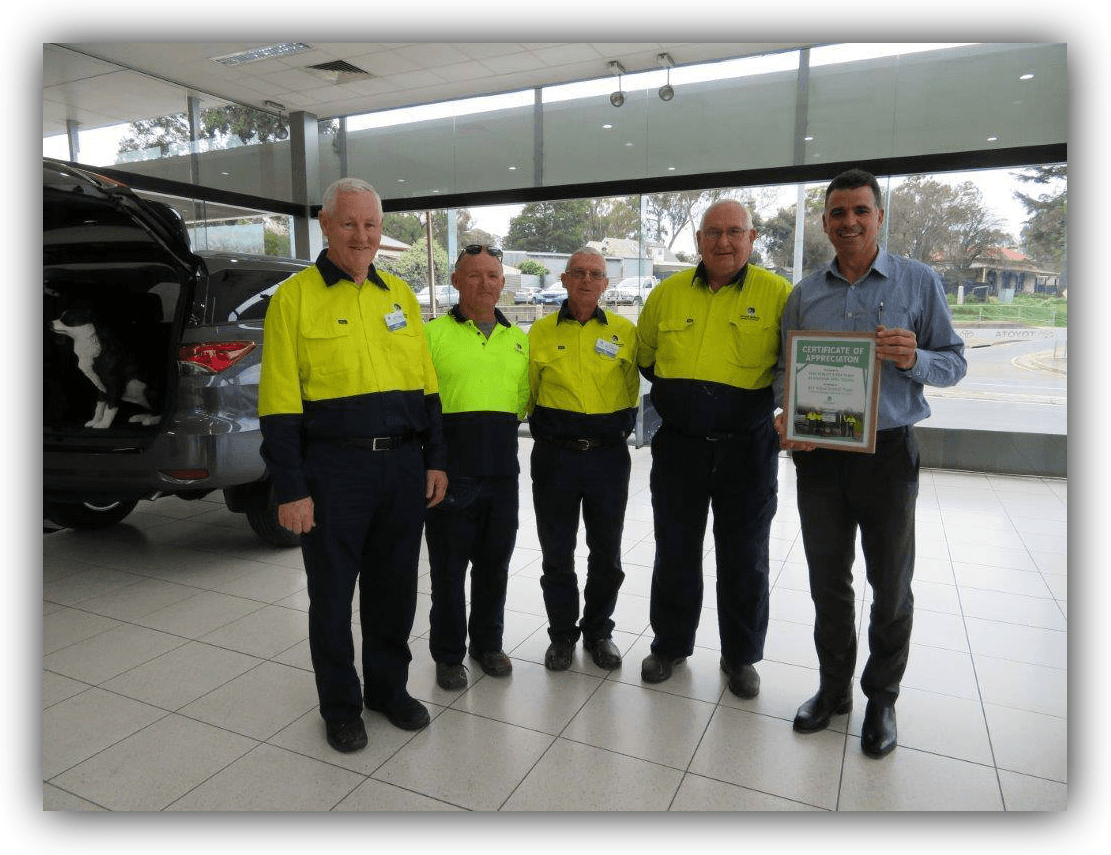 Graffiti Removal Program
Adelaide Hills Toyota is delighted to be a collaborative member of the volunteer GET (Graffiti Eater Team) Proud Graffiti Program which removes graffiti throughout the community. A team of 4 dedicated volunteers patrol Mount Barker one morning a week and their efforts have been very successful in fighting the war against Graffiti in our community.Adelaide Hills Toyota has been a key part of this since the program's inception in 2013 providing a motor vehicle and petrol each week to continue this very important role in the Mt Barker district.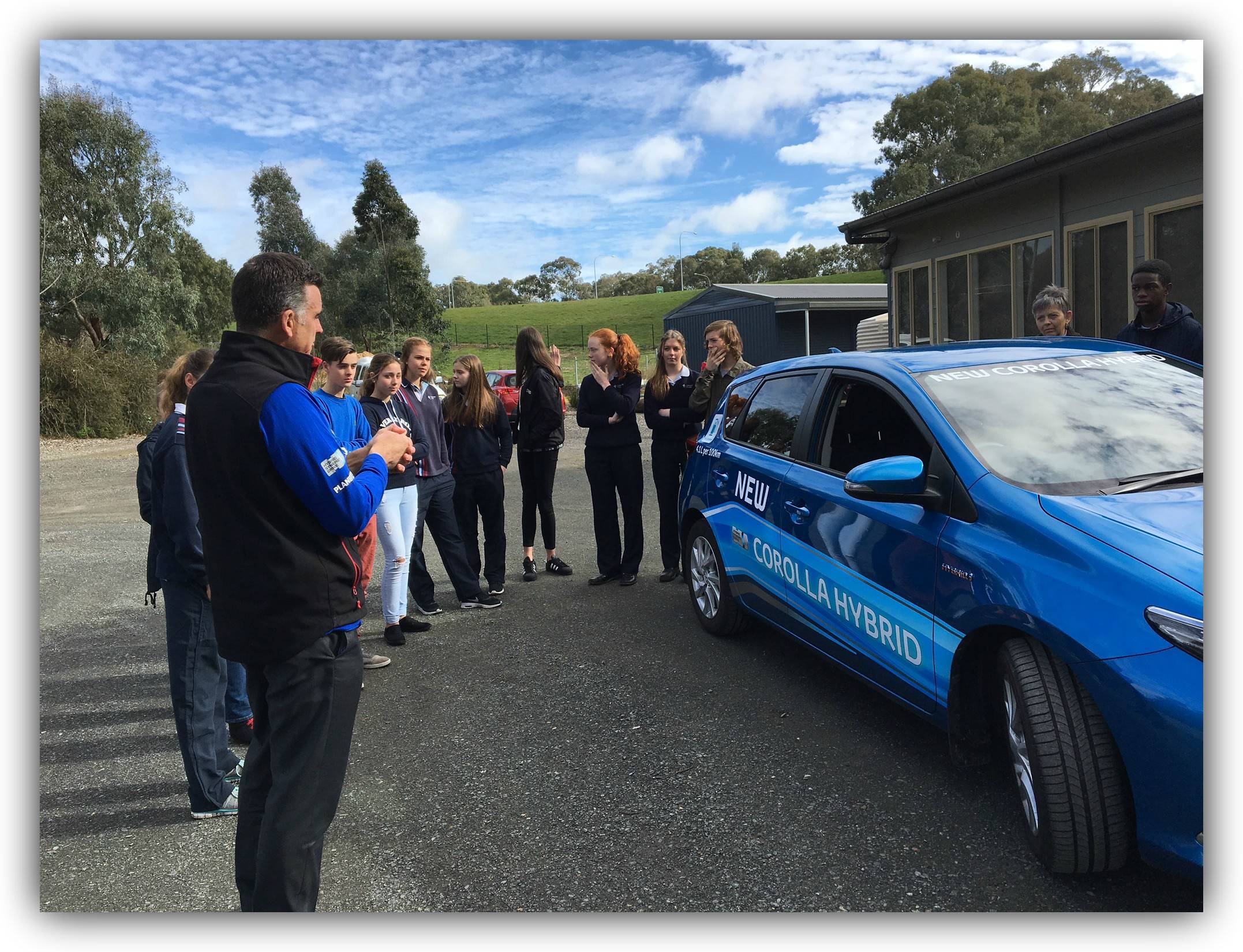 National Tree Day
Adelaide Hills Toyota has been involved with National Tree Day for over 10 years. National Tree Day is Australia's biggest community tree-planting and nature care event.
Coordinated by Planet Ark and proudly sponsored by Toyota, this is a special day for all Australians to help out by planting and caring for native trees and shrubs to improve the environment in which they live.
National Tree Day started in 1996 and since then more than 3 million people have planted 23 million seedlings! Each year Adelaide Hills Toyota align themselves with a local school and help them plant trees, also providing the tree guards and gardening gloves and T-Shirts for the students to wear.
This year we helped the Year 7's at Cornerstone College in Mt Barker to plant over 200 trees and we also took along a Hybrid Corolla and Tom talked to the students about Hybrid cars and Toyota's commitment to Hybrid Synergy Drive which is working to create a sustainable driving future.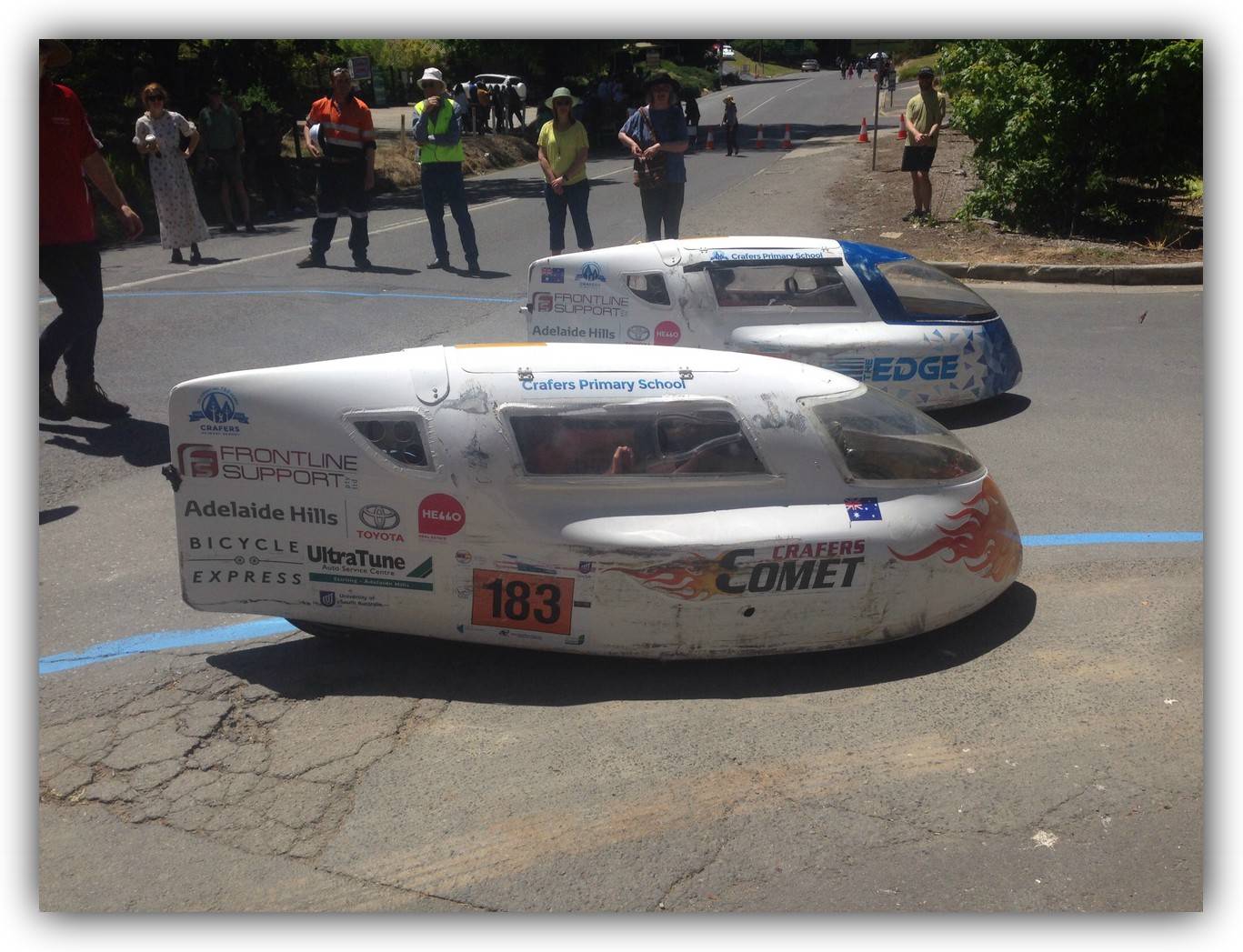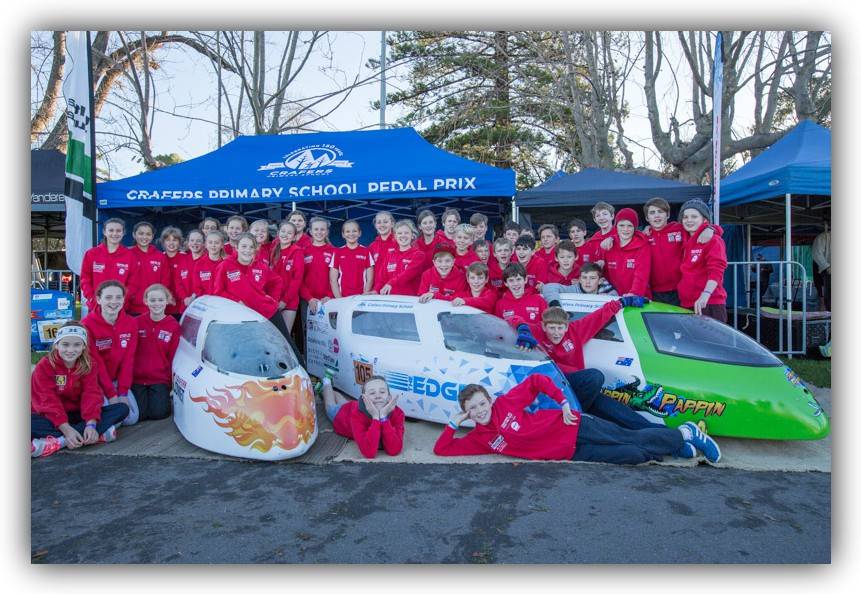 Pedal Prix
Every year Adelaide Hills Toyota sponsor the Crafers Primary School Pedal Prix. The Pedal Prix involves a team of keen year 6/7 students who participate in a series of organised races in three wheeled recumbent vehicles. Pedal Prix was introduced to Crafers Primary School in 2002 starting with two very basic second hand vehicles.
It has progressed to the school now owning three modern vehicles that compete in four Pedal Prix races each year.
There are three 6 hour races: two at Victoria Park in Adelaide and one at Loxton. The season culminates in the main pedal prix race at Murray Bridge in September.
This is a 24 hour race that has over 200 teams competing. Adelaide Hills Toyota is thrilled to be involved in the Pedal Prix and while it is hard work, students find it incredibly rewarding from both a personal development and teamwork perspective and most importantly they have fun doing it!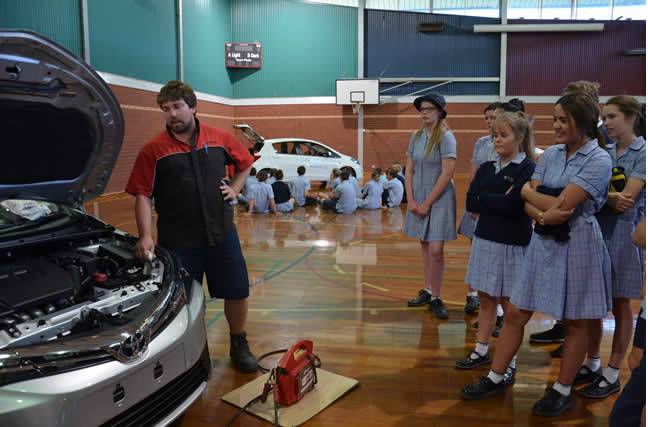 We have the absolute pleasure to be involved and offer the year 10 and 11 students topics that cover:
Safe driving practices (speeding, drink driving, attention and concentration whilst driving, fatigue and other road safety issues)
Maintenance of vehicles for safety (oil changes, regular servicing, checking wiper blades, tyre pressure, brakes)
Emergency Repairs (changing tyres, overheating, flat battery or other common roadside problems)
There are three 6 hour races: two at Victoria Park in Adelaide and one at Loxton. The season culminates in the main pedal prix race at Murray Bridge in September.
We are all aware of the danger on our roads and nothing is more important to us than offering safety awareness to our local community that will soon be behind the wheel!